Safety and Cost Effectiveness of Private Prisons
The Victorian adult corrections system includes more than 50 community correctional facilities, 14 prisons and a transition centre. Figure 1A shows the prisons and transition centre, along with their operational capacity, at December 2017.
Figure 1A
Victoria's prison system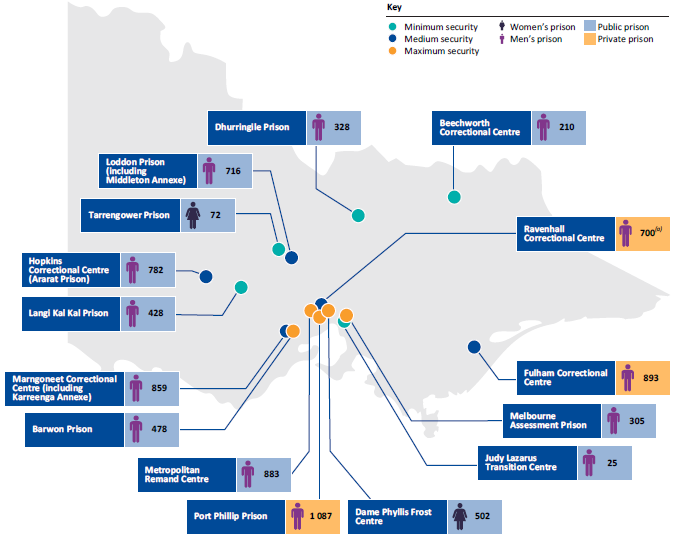 (a) Ravenhall was partially operational as at December 2017. Its full operational capacity is 1 000.
Source: VAGO based on operational capacity data provided by CV.
Each prison has unique characteristics and its own complexities and challenges, including:
prisoner profile—sentenced or remand prisoners, sex offenders, young adult offenders, prisoners with intellectually disabilities and those requiring protection or separation due to particular risks or vulnerabilities
the type of service provided—reception prison, preparation for release, hospital services.
Victoria's privately operated prisons
The initial contracts required accommodation services for around 600 prisoners in
fit-for-purpose buildings and facilities, with the majority of prisoners in single cells, and a safe and secure environment, including a secure physical prison perimeter.
Since 1997, Victoria has contracted three privately operated 'full-service' men's prisons under PPP arrangements—Fulham, Port Phillip and Ravenhall. We did not examine Ravenhall in this audit as it only commenced operations in November 2017. The Dame Phyllis Frost Centre, previously the Metropolitan Women's Correctional Centre is a maximum‑security women's prison, which was contracted to a private operator in 1996, but returned to state control in 2000 due to concerns with the management of the prison.
Under their contracts, the operators of Fulham and Port Phillip provide accommodation services (suitable facilities for prisoner containment) and correctional services (safe custody and welfare of prisoners in their care). Correctional and accommodation services are required to comply with relevant legislation and state policies, as well as contractual obligations.
Contracted correctional services included:
safe, secure, humane and just containment and supervision of prisoners
opportunities for rehabilitation
work for prisoners to support their return to the community
health and other services for prisoners.
The private operators, sub‑contractors or CV also provide prisoner education and employment programs and health services.
The initial private prison contracts specified SDOs and performance thresholds, and enabled performance-based payments to the operators. The contracts addressed the state's access rights, insurance requirements and required facility maintenance.
GEO operates Fulham, a medium-security men's prison located near Sale, in eastern Victoria. Fulham accommodates medium-security mainstream and protection prisoners in cellblocks and cottages, as well as minimum-security prisoners in units. Fulham also has a minimum-security annexe, Nalu, a unit initially intended for young offenders aged 18–25 that now houses all age groups.
G4S operates Port Phillip, a maximum-security men's prison located in Truganina, to the west of Melbourne. Port Phillip accommodates prisoners with diverse needs, including mainstream prisoners and those requiring protection or separation in high-security units. It has a psychosocial unit, a youth unit for young adult offenders, and a special care unit for vulnerable and intellectually disabled prisoners. Port Phillip has a 20-bed in-patient facility within its walls, providing primary and secondary health care to prisoners from across the corrections system. Port Phillip is also responsible for managing the security of all prisoners in the secure or non-secure wards at St Vincent's Hospital.
In comparison to other Australian states, Victoria has the largest percentage of its total number of male prisoners in private prisons. With Ravenhall now in operation, Victoria has more privately operated prisons than any other state in Australia. Figure 1B shows key metrics for Fulham, Port Phillip and Ravenhall.
Figure 1B
Key metrics for Victoria's full-service private prisons at December 2017
Metric

Private prison

Fulham

Port Phillip

Ravenhall

Operational capacity

893

1 087

700(a)

Percentage of state bed capacity in men's prisons

12%

14%

9%

New contract commencement

1 July 2016(b)

10 September 2017

Build phase—15 September 2014
Operational phase—November 2017

Contract term

11 plus 8.25 years

10 plus 10 years

25 years (operational phase)

Contract expiry

October 2035

September 2037

October 2042
Note: Operational capacity percentages are rounded figures.
(a) Ravenhall has not reached its full operational capacity of 1 000. Ravenhall also includes an option to increase capacity to 1 300.
(b) The initial Fulham contract was due to expire in April 2017. The state and GEO signed the new contract in April 2015 and agreed that it would commence in July 2016.
Source: CV.
Terms of the Fulham and Port Phillip contracts
The initial contracts for Fulham and Port Phillip required the design, finance, construction, operation and maintenance of the prisons for up to 20 years. The contracts included an option to negotiate an extension. The initial contracts were due to expire in 2017.
Significantly, the initial arrangements also provided the operators with long‑term leases over the land on which the prisons were constructed. These Crown leases were to expire in 2035 for Fulham and 2046 for Port Phillip. The misalignment of the lease terms with the service contract term was one of the reasons for the state negotiating extended contracts with the incumbent operators.
DJR finalised negotiations during 2015 for new contracts with both operators. The new contracts have maximum terms of up to 20 years, subject to the operators meeting performance requirements, and are forecast to cost the state approximately $4.5 billion in nominal terms if they run their full term. The revised lease terms now align with the 20-year service contract terms.
Systemic issues and challenges
Prison performance is influenced by many factors, and the Victorian system faces ongoing challenges due to a growing and increasingly complex prisoner population.
Increase in prisoner numbers
In December 2017, Victoria had 7 131 prisoners, 93 per cent of whom were male. As shown in Figure 1C, prisoner numbers have fluctuated but overall increased from an annual average of 4 272 in 2010–11 to 6 383 in 2016–17. During this period, Port Phillip's prisoner numbers increased by an average of 5 per cent annually and Fulham's numbers fluctuated but on average increased by 2 per cent annually.
Figure 1C
Annual average number of male prisoners, 2010–11 to 2016–17
Source: VAGO based on the daily and monthly averages for each prison provided by CV.
Prison utilisation rates
The operational capacity of a prison is the total number of beds available for prisoners. In December 2017, the men's prison system had an average daily operating capacity of 7 694 places for 6 638 prisoners. Operational capacity includes any additional beds in cells over and above their design capacity—for example, single cells that now accommodate bunk beds. Excluded from operational capacity are cells dedicated to short-term management of prisoners (often after an incident), some specialist beds such as hospital beds and observation cells, and cells closed for an extended period of maintenance.
CV regularly monitors each prison's utilisation rate based on its operational capacity. DJR's output performance measures published in the 2016–17 State Budget included a utilisation target of 90 to 95 per cent and it achieved an outcome of 94 per cent in 2016–17. CV advised that this target reflects the need to have sufficient flexibility in the system to deal with maintenance, prisoner movement and placement needs, and to respond to incidents.
Figure 1D and Figure 1E show that utilisation rates have fluctuated in all men's prisons since 2011–12. Port Phillip has consistently higher utilisation rates than the average of the other maximum-security prisons and is consistently at or above the 95 per cent utilisation target except in quarter four 2014–15. CV advised that Port Phillip's utilisation rate can reach above 100 per cent due to the use of special-category prison beds, such as hospital beds, that are not counted in operational capacity.
Fulham's utilisation has fluctuated, and between 2014–15 and 2015–16 dropped below the average of other medium-security prisons. CV attributes this to the opening of the Middleton facility at Loddon prison and expansion at other prisons.
The riot at the Metropolitan Remand Centre (MRC) in June 2015 also resulted in an increase in utilisation rates at both Port Phillip and Fulham in 2015–16, after a period of lower utilisation in 2014–15.
Figure 1D
Daily average utilisation at Port Phillip compared to the average at other maximum-security prisons (excluding Port Phillip), 2011–12 to 2016–17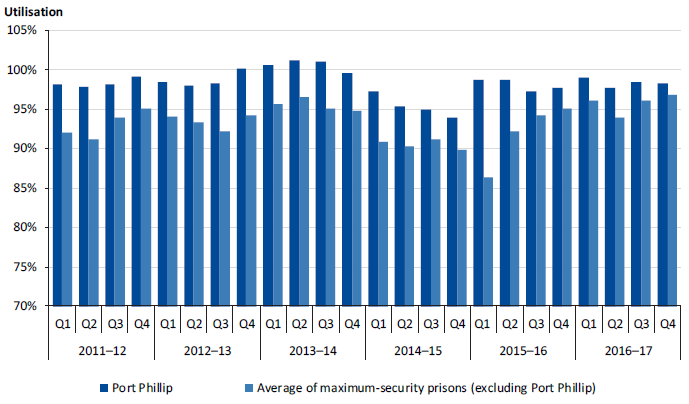 Note: Port Phillip's average daily utilisation reached above 100 per cent due to the use of special-category prison beds (such as hospital beds).
Source: VAGO based on data provided by CV.
Figure 1E
Daily average utilisation at Fulham compared to the average at other medium-security prisons (excluding Fulham), 2011–12 to 2016–17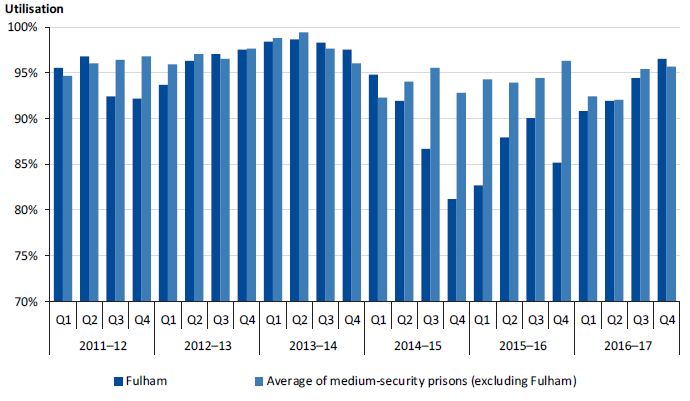 Source: VAGO based on data provided by CV.
Increase in remand prisoners
A remand prisoner is a person against whom a charge has been laid but not proven in court. The prisoner has not been released on bail and is in prison awaiting trial.
The profile of prisoners has changed over the last decade, with an increase in the remand population from 17 per cent of the total men's prison population in the first quarter of 2010–11 to 30 per cent at the end of 2017, as shown in Figure 1F. This increase in remand prisoners is linked to reforms of the parole and bail systems, as well as a greater number of police detecting more offences. The MRC riot in June 2015 also resulted in remandees being moved to other maximum- and medium-security prisons.
In December 2017, 45 per cent of Port Phillip's prisoners were remand prisoners, down from an annual average of 51 per cent in 2016–17. Fulham started to receive remand prisoners in 2015 and, in December 2017, remand prisoners accounted for 25 per cent of Fulham's population.
Figure 1F
Percentage of remand prisoners in all male prisons, July 2010 to December 2017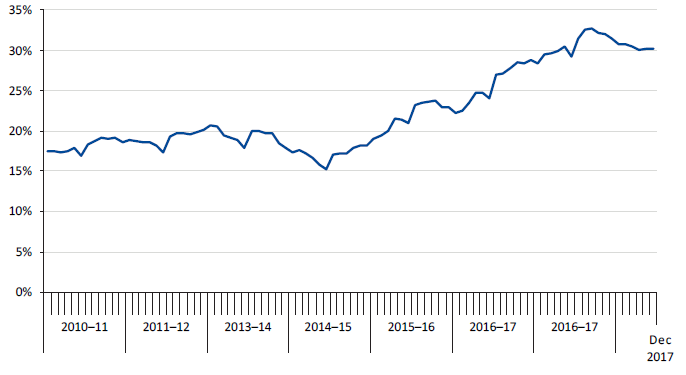 Source: VAGO based on data provided by CV.
A November 2016 report by DJR's Office of Correctional Services Review (OCSR)—now the Justice Assurance Review Office (JARO)—found that remand prisoners may face particular challenges. The report found that, for the period reviewed, male remand prisoners were potentially more vulnerable than sentenced prisoners due to the effects of drug and alcohol withdrawal, young age, potential of undiagnosed medical illness and the risk of being subject to standover behaviour from other prisoners.
In addition, remand prisoners have comparatively short and uncertain periods in custody and contribute to the increasing number of prisoner movements, as they have more court appearances than a sentenced prisoner. Based on the presumption of innocence, remand prisoners are entitled to less restrictive conditions and have different rights to sentenced prisoners. They are not mandated to participate in programs or work. While remand prisoners should have separate accommodation units to sentenced prisoners, this is not always achievable due to system-wide capacity issues.
Prisoner movement
There are many prisoner movements to, between and from Victoria's prisons, including:
reception into prison
discharge from prison
progression or regression within a prisoner's sentence or classification
court appearances
medical needs and hospital treatment
short prison sentences
prison transfers for safety needs or to access particular leave permits.
Reception prisons are the first point of contact for prisoners entering the prison system. By their nature, reception prisons have a high volume of prisoner movements.
In Victoria, men's reception prisons include MRC, Melbourne Assessment Prison (MAP) and, since November 2017, Ravenhall.
Port Phillip can act as a reception prison, but the state has not used this capability frequently in recent years.
The transient nature of prison populations results in a constantly changing prison culture and dynamic. This poses a risk for prison operators in ensuring the safety and security of prisoners and prison staff. The number of prisoner movements varies greatly between prisons depending on the particular services a prison provides. For example, Port Phillip is the largest male prison and is a central hub for the prison system—prisoners may transfer to Port Phillip from across the system to be near Melbourne's courts, to receive medical treatment and to prepare for discharge. Remand prisoners also experience more movements due to court appearances.
Port Phillip has the greatest number of prisoner movements of any Victorian prison, because of its large population and the services it provides. Figure 1G shows that the number of prisoner movements at Port Phillip is consistently higher than MRC and the average of other maximum-security prisons. Movements increased at Port Phillip and MRC in 2014–15, with court-related movements and prisoner discharges contributing the most to this increase. The difference between Port Phillip and MRC prisoner movements increased over the last two years, potentially due to the impact of the MRC riot and increased proportion of remand prisoners. In comparison, the average of all other maximum-security prisons is lower and this is primarily due to Barwon Prison having a low number of movements.
When movements are calculated as the number of movements per prisoner per year, Port Phillip and MRC are the same, with an annual average of 19 moves per prisoner between 2010–11 and 2016–17.
Figure 1G
Prisoner movements at Port Phillip and MRC compared to the average at maximum-security prisons (excluding Port Phillip), 2010–11 to 2016–17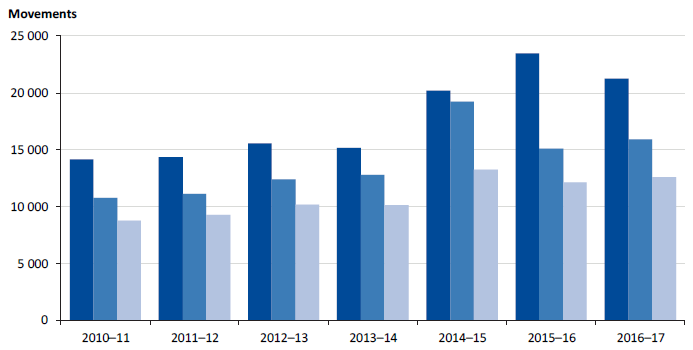 Note: Movements include all transfers in and out of the prison, receptions and discharges. Court transfers and movements for leave permits (related to health, justice administration, community work, rehabilitation and transition and other approved reasons) are counted as movements.
Source: VAGO based on movement data provided by CV.
Figure 1H shows that Fulham has consistently more prisoner movements than Marngoneet Correctional Centre (Marngoneet), a comparable public medium‑security prison. This difference is partly due to higher prisoner numbers. When compared to the average of all other medium-security prisons, Fulham's average annual number of movements is around double the average for other medium-security prisons.
However, when we take into account the number of prisoners at a prison, Fulham's rate of movement per prisoner per year is similar to the average of other medium-security prisons. On average, Fulham's annual average rate of movements between 2010–11 and 2016–17 is 9.6 movements per prisoner and the average of other medium security prisons is 9.5 movements per prisoner.
Figure 1H
Prisoner movements at Fulham and Marngoneet compared to the average at medium-security prisons (excluding Fulham), 2010–11 to
2016–17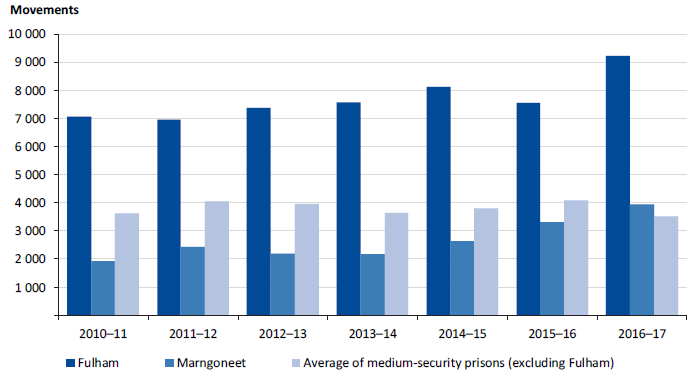 Source: VAGO based on movement data provided by CV.
Increase in assaults
Victoria's prison system is experiencing an increase in assaults. Figure 1I shows the rate of assaults against prisoners and staff in Victoria's prisons over the last four years in men's prisons. In July 2013, there were 63 assaults and 5 022 male prisoners, and in June 2017 there were 133 assaults and 6 622 male prisoners. While the rate of assaults per 100 prisoners fluctuates monthly, on average it increased by 2 per cent per month across all men's prisons in this period. Many prisons, public and private, are not meeting performance thresholds for prisoner‑on‑prisoner assaults.
CV and prison operators attribute the increase in assaults to rising prisoner numbers and movements, the increasing proportion of remand prisoners and a more complex prisoner profile including a higher rate of prisoners with mental illness or intellectual disabilities, or suffering drug withdrawal.
Figure 1I
Monthly rate of prisoner and staff assaults per 100 prisoners in men's prisons, 2013–14 to 2016–17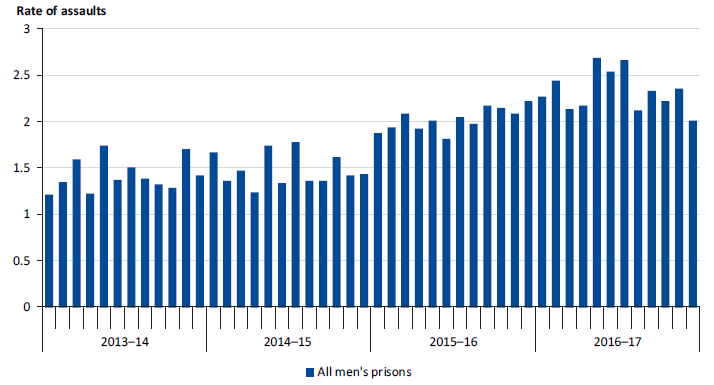 Source: VAGO based on data provided by CV.
1.1 Relevant legislation and regulation
Corrections Act 1986
The Corrections Act 1986 (the Act) and the Corrections Regulations 2009 (the Regulations) provide the legislative basis for adult correctional services in Victoria. Relevant parts of the Act:
provide for the establishment, management and security of prisons and the welfare of prisoners
allow the state to contract out the provision of correctional services
assign clear responsibilities to the Secretary of DJR and, specifically, the Commissioner of CV (the Commissioner) to monitor the performance of all correctional services to achieve the safe custody and welfare of prisoners.
This means that, while the Act allows the state to contract out the operation of prisons and ancillary services, the state retains a duty of care to all prisoners and is accountable to the community for the operation and cost of all prisons.
Victorian Correctional Management Standards for Men's Prisons
The Victorian Correctional Management Standards for Men's Prisons (the Standards) reflect the requirements of the Act and the Regulations. The Standards focus on the desired outcomes and outputs for public and private prisons, and provide a basis for prison operating procedures. They also provide the framework against which CV monitors prison services.
The Standards cross-reference the national Standard Guidelines for Corrections in Australia, to which CV is a signatory. These guidelines act as outcomes or goals to be achieved by correctional services, rather than a set of absolute standards or laws to be enforced.
Commissioner's Requirements
The Commissioner issues Commissioner's Requirements to all prisons to promote consistency and continuity of operational practice across the whole prison system. CV consults with prison management to develop the Commissioner's Requirements.
There are 66 Commissioner's Requirements related to:
security and control
prisoner management
programs and industry
prisoner services
prisoner health.
The private prisons are required to document their operating procedures in an operating manual, which must comply with the Commissioner's Requirements. The operating manual includes a range of operating instructions, which the Commissioner endorses.
1.2 Roles of agencies and associated entities
Corrections Victoria
CV, a division of DJR, is responsible for the establishment, management and security of all public and private prisons in line with the relevant legislative requirements. CV's key functions include:
the statewide provision of correctional operations
setting standards and monitoring performance
developing and delivering correctional strategy, policy and programs.
These functions aim to achieve the safe custody and welfare of prisoners and community-based offenders.
Justice Assurance Review Office
JARO operates as an internal review and assurance function to advise the Secretary of DJR on the performance of Victoria's youth justice and corrections systems. JARO is separate from the department's Youth Justice Division and CV, and acts as an additional line of defence against emerging and enduring risk within both systems. JARO reviews all deaths in custody and some serious incidents, as well as conducting thematic reviews of systemic issues.
Private prison operators
GEO operates Fulham under a contract with ACI, which has the contract with the state. ACI is a special‑purpose company established by The GEO Group, which is an American multinational company providing corrective and detention services worldwide.
Port Phillip is operated by G4S—part of a large multinational company operating in over 100 countries.
Monitoring prisons
CV's various divisions support and monitor the private prison operators, as shown in Figure 1J.
Figure 1J
CV divisions and their roles in service delivery and overseeing private prisons
Business services

Manages contracts for management of private prisons
Monitors contractual compliance
Provides an onsite presence at prisons

Strategic policy and planning

Validates prison SDOs
Analyses performance and trends
Develops strategy and policy for all prisons

Operations

Acts as the operational interface between CV and prisons
Provides post-incident management and response
Develops and updates Commissioner's Requirements
Collects and calculates prison performance data

Offender management

Provides and oversees offending behaviour programs

Sentence management

Classifies prisoners by security and risk
Allocates prisoners to a prison
Manages major offenders and high-risk prisoners

Security and intelligence

Manages CV intelligence
Oversees and assists prison intelligence units (PIU)
Operates the emergency response team
Sets security standards
Note: This list does not show all functions provided by CV divisions. It includes only the functions that relate to this audit.
Source: VAGO based on information from CV.
Performance framework
All prisons must report on their performance against specified SDOs, which cover prisoner safety, security, health, welfare, activities and programs. The performance thresholds for SDOs vary for each prison based on the security level of the prison, prisoner profile and past performance. CV monitors SDO performance and provides monthly and quarterly performance reports to the Commissioner.
The new contracts for Fulham and Port Phillip, signed in 2015, retained the existing SDOs and included 18 additional KPIs for Port Phillip and 16 for Fulham. The contracts also redesigned the performance framework to:
focus more strongly on facility maintenance
introduce a quarterly performance outcome, instead of annual
restructure the thresholds and associated performance payments so they are scaled according to the prison's level of performance.
The new KPIs applied to Fulham for the 2016–17 year and Port Phillip from September 2017. They cover a range of performance areas including health care, facility maintenance, reintegration programs and recidivism, although not all the KPIs apply at both prisons. The KPIs do not apply at Victoria's public prisons, and CV has no plans to implement them due to the administrative burden this would place on the prisons.
The eight SDOs and two KPIs relating to prison safety and security are:
SDO 1—escapes
SDO 2—assaults on staff by prisoners
SDO 3—out-of-cell hours
SDO 4—number of unnatural deaths
SDO 5—self harm
SDO 6—assaults on prisoners by other prisoners
SDO 7—assaults on prisoners by staff
SDO 8—random general urinalysis
KPI 6—releases on the correct date
KPI 11—incident reporting.
The safety and security SDOs and KPIs in the new contracts use various measures:
zero tolerance—requires 100 per cent compliance or nil incidents
a percentage result—for example, positive drug tests
number of incident points per quarter—adjusted to account for prisoner numbers.
Excluding the zero tolerance indicators, each of the SDOs and KPIs above has a threshold that the prisons are required to meet. See Appendix B for full details on SDOs and KPIs.
Unlike public prisons, private prisons have a performance regime with associated payments outlined in their contracts. In the private prisons, performance thresholds form part of the commercial negotiations between the state and the operator, and there are financial implications when private prisons do not meet the thresholds. In the public system, performance outcomes are not linked to financial penalties. CV considers that this provides it with more flexibility to alter the thresholds for public prisons and potentially implement stretch goals.
Our May 1999 audit Victoria's Prison System: Community protection and prisoner welfare found that the initial contracts with the operators of Fulham and Port Phillip did not encourage service excellence. The SDO thresholds in these contracts were not based on average performance but on the lowest standard achieved by comparable public prisons during the previous three-year period. The audit also found that DJR applied less scrutiny to public prison operations and performance than to private prisons.
The initial contracts allowed CV to amend SDO thresholds over time based on the state's requirements and commercial negotiations with the operators. These negotiations and updates to SDO thresholds occurred as part of the five-yearly service term renewal process under the contracts.
1.3 Previous audits
Our September 2010 report Management of Prison Accommodation Using Public Private Partnerships found that the former Department of Justice faced significant challenges and problems managing these long-term contracts. This was partially due to the contracts not adequately defining quality standards, but was also the result of ineffective administration of the contracts, lack of adequate performance monitoring, complex governance arrangements and inadequate risk management.
Our October 2013 report Prevention and Management of Drug Use in Prisons found that the processes for identifying prisoners who use drugs were generally effective. However, weaknesses in performance reporting and evaluation meant that the former Department of Justice could not determine whether initiatives to manage drug use in prisons were effective.
Other recent audits of prisons include Prison Capacity Planning (November 2012) and Prisoner Transportation (June 2014).
1.4 Why this audit is important
In recent years, there has been growing public concern about safety risks at Victoria's prisons, and their implications for prisoners, employees and the public. Recent incidents have contributed to the public's concerns—for example, prisoners escaping over the wall at Fulham (2016), a prisoner escaping from Port Phillip's custody at St Vincent's Hospital (2017), prisoners rioting at MRC (2015) and numerous other violent incidents at Victorian and interstate prisons and youth justice facilities.
The operation of Victoria's prisons is a considerable expense for the state. Understanding the cost of operating private prisons compared to public prisons is important for an accountable and transparent prison system. Equally important is the ability to evaluate whether the recent contract extensions for Port Phillip and Fulham provide value for money.
1.5 What this audit examined and how
The objective of this audit was to determine whether Victoria's private prisons are safe and cost effective.
We examined whether:
private prisons are appropriately managing critical safety and security risks
private prisons met the state's key service delivery, cost and risk transfer expectations under the old contracts
the recent contract extensions achieved value for money.
We limited our comparison of the private prisons' performance and cost to other male prisons:
We compared Port Phillip's performance outcomes to MRC, and we compared Fulham's to Marngoneet, to reflect similarities such as prison profile, size and volume of prisoner movements.
We compared Port Phillip's financial performance to MRC and Barwon, and we compared Fulham's to Loddon and the average of other medium‑security prisons (which includes Loddon). These financial comparisons are consistent with the value-for-money comparisons the state undertook when negotiating the new contracts.
We excluded the two women's prisons due to operational differences and complexities.
Our analysis of prison performance covered the period July 2010 to June 2017. We examined prison incident data for four years, from July 2013 to June 2017.
We conducted our audit in accordance with section 15 of the Audit Act 1994 and ASAE 3500 Performance Engagements. We complied with the independence and other relevant ethical requirements related to assurance engagements. In this audit, we used our 'follow-the-dollar' powers, directly engaging the private prison operators and requesting information from them. The private operators cooperated with all our requests.
The cost of this audit was $1 020 000.
1.6 Report structure
This report is structured as follows:
Part 2 examines private prison contract management and performance
Part 3 examines the safety and security of private prisons
Part 4 examines prison costs
Part 5 examines the negotiation of the new private prison contracts.