The Auditor-General is an independent officer of the Victorian parliament, appointed on behalf of Victorians to scrutinise how well government spends public money. VAGO helps hold the government to account through our financial and performance audits of public sector agencies and our resulting reports to parliament.
Along with the Independent Broad-based Anti‑corruption Commission, the Victorian Ombudsman and the Victorian Inspectorate, we are part of Victoria's modern integrity system, and we work to protect the public interest.
Two principal pieces of legislation govern what we do:
The Constitution Act 1975 establishes the role of the Auditor-General and gives the Auditor-General complete discretion in how the functions and powers of the role are performed and exercised.
The Audit Act 1994 establishes the Auditor-General's mandate and VAGO. It provides the legal basis for our powers and identifies the responsibilities of our role. In Section 1.3, we discuss the recent changes to this Act.
We audit the financial reports of over 500 agencies each year and provide opinions on 110 performance statements. The agencies we audit include government departments, statutory bodies, educational institutions, public hospitals, water corporations, insurers and local government councils. We also conduct performance audits that assess the effectiveness, efficiency, economy and compliance of government agencies, programs and services. With our follow-the-dollar powers, we are able to audit non‑government organisations that provide government services under contract.
Our unique position and access to information across the entire Victorian public sector allow us to identify common issues and provide useful insights for the agencies we audit. We not only provide recommendations on how to improve services and function more efficiently and effectively, we now also provide collated information back to agencies through our data analytics dashboards.
1.1 Our operating model
Our operating model underpins how we create value for parliament and the Victorian community.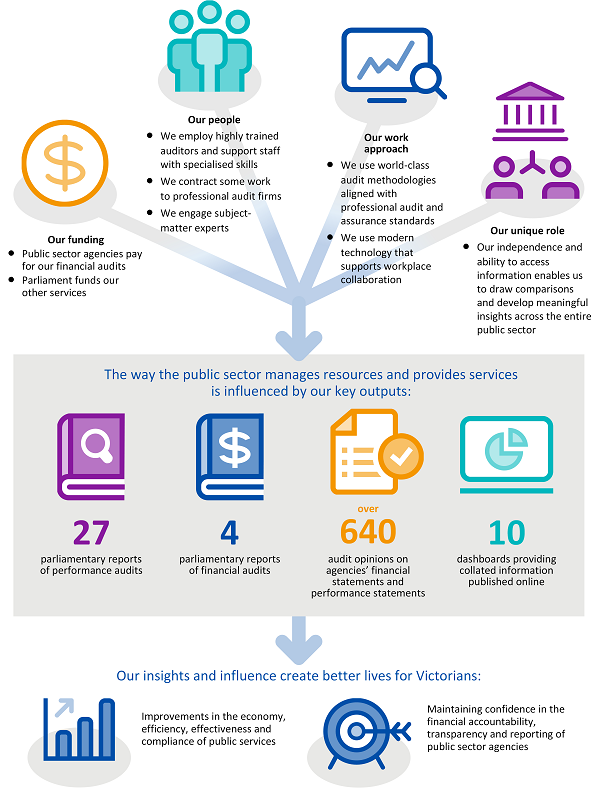 1.2 Our values
In May 2018, VAGO introduced a new set of organisational values:
We are an independent integrity organisation. We will stay true to our values and meet the high standards that Victoria's parliament, public sector and community expect from us.
We show respect
We collaborate
We are innovative
We are accountable
Staff chose these values to shape our work and our culture. This year, we continued involving staff in embedding their chosen values in our day-to-day work. We held a series of events and activities, including volunteering opportunities at the Brotherhood of St Laurence and innovation workshops. We participated in Dialogue in the Dark tours and collected items to donate to Fitted for Work. We also introduced our first Diversity and Inclusion Plan, which reflects our values of innovation and respect. We discuss this plan in Section 4.2.
1.3 Our new legislation
Parliament passed the Audit Amendment Act 2019 on 28 May 2019, and it commenced on 1 July 2019.
The Act restructures and modernises the Audit Act 1994, strengthening the Auditor‑General's capacity to examine and report on the efficiency, effectiveness, and economy of the public sector.
The Audit Act 1994 now includes modern information gathering powers, widens our ability to disclose relevant information to other bodies, and introduces a new function to conduct and report on assurance reviews to parliament.
VAGO's existing information gathering powers have been strengthened to include powers to enter and inspect premises. Intended as a last resort, these new powers have strict procedural fairness and mandatory reporting obligations. The changes also clarify that VAGO can disclose information to specific entities, such as a relevant public body or minister.
Assurance reviews are more targeted, time sensitive, smaller scale and cost‑effective compared with financial or performance audits. They enable the Auditor‑General to respond quickly and effectively to discrete issues brought to the Auditor-General's attention by other integrity offices, parliamentarians or the community. We will use this new function first to report annually on agencies' progress in acquitting past audit recommendations that they agreed to implement.
1.4 Our strategic plan
In 2017, we launched our Strategic Plan 2017–2021, which sets out our objectives, our directions to achieve these objectives, and measures of what success looks like. This is our first full year of operating with the plan. In this report we detail our progress against the plan.
 

Increase our relevance

Grow our influence

Invest in our people

Lead by example

Our objectives

Be more relevant by delivering credible and authoritative reports and advice about things that matter and will make a difference

Be valued for our independence and more influential because of the unique perspectives we provide

Enable high performance by our people through a supportive culture, professional development and collaboration

Model exemplary performance in everything we do

Our directions

Modernise our auditing methods

Update how we audit to reflect new and emerging technology-enabled practices

Explore our full mandate

Rebalance our audit programs to evenly cover efficiency and effectiveness, governance and compliance

Take a longer-term perspective

Analyse audit results through time to identify what works on complex and interconnecting issues

Strengthen our engagement

Build more productive relationships based on mutual respect and understanding of our respective roles and organisational contexts

Better leverage our access

Use our access to cross-government datasets to provide our clients with new insights they can use

Increase accessibility to our work

Develop new interactive channels with our stakeholders and open up access to our data to allow tailored use to meet specific needs

Be clear about what we stand for

Demonstrate leadership and accountability in how we work and live our values and culture

Invest in excellence

Support our people to harness new and emerging technologies by developing their technical, analytical and people management capabilities

Get the mix right

Ensure our workforce composition builds our capability to position us to meet future business needs

Simplify our business

Eliminate unnecessary internal red tape, and streamline and increase automation of core business processes

Embrace new technology

Invest in cloud technology, implement the best software solutions to integrate our business systems, and share information to improve our practice

Better intelligence to drive decisions

Develop a comprehensive portfolio of service, product and project performance measures

What success looks like

Our audit program effort is targeted across efficiency, effectiveness, economy and compliance

The benefits realised by the public sector show an increased return on investment from our audit work

More of our performance audits originate from requests from Parliament, the public sector and the public

Use of our reports and associated datasets in government service delivery and for parliamentary purposes has increased

Employee engagement has increased

We develop, attract, and retain the talent we need

 

Workforce productivity has increased

Our internal practices set the benchmark for public sector entities and other audit offices

Our progress and highlights

In 2018–19, we delivered an audit program balanced across efficiency, effectiveness, economy and compliance.

We used data analytic dashboards in our annual planning for the first time.

We reviewed and modernised our financial audit methodology.

We created financial audit dashboards that allow us to quickly process and analyse 100 per cent of our clients' financial records.

We focused on having a longer-term perspective by tabling the first of our longitudinal performance audits on the Melbourne Metro Tunnel Project.

We continue to follow up with agencies post-audit to help us understand the benefits audited agencies are realising through our audit work.

This year we have worked on strengthening our relationships with parliamentarians and audit committee chairs.

We continued reviewing suggestions from parliamentarians and the public as part of our annual planning process.

We have continued our focus on data sharing and have created two dashboards for agencies to use to improve the way they deliver services.

We created 10 data dashboards for the public to access and use.

Our audits have made a significant impact this year, helping to shape funding decisions and new initiatives.

Our employee engagement score this year was 66, the same as in 2018.

This year, we launched a Culture Plan to help us live up to our organisational values and to keep our staff engaged.

We also created our first ever Diversity and Inclusion Plan, which will help shape VAGO into a fairer and more welcoming workplace.

We have run major training initiatives on appropriate behaviour and plain English.

Our productivity was 60 per cent (55 per cent in 2016–17 and 60 per cent in 2017–18).

In 2018–19, we improved our internal processes by making significant technology updates and focusing on data protection.

We continued to build our business intelligence systems that will give us simple and timely access to performance information.

We implemented a new human resources system with a modern interface that has simplified tasks and reduced the duplication of effort.

We reviewed our fraud and corruption controls.

We have improved our reports by using infographics to highlight key messages.
1.5 Our performance
Every year VAGO reports against the performance measures and targets set out in Budget Paper No. 3. This year, for the first time, this report includes an independently audited Performance Statement with this information, in Part 6. While not required, this approach assures readers that our non-financial performance information is reliable, in the same way that assurance is provided by the audit opinion on our financial statements.
A summary of our results is provided below.
 
Our parliamentary clients

Performance measures

Target

Actual

Parliamentarians' overall satisfaction level

85%

73.6%

Average time taken to reply to parliamentarians' inquiries

≤20 days

17 days

Every year we survey parliamentarians about how satisfied they are with our work and we receive correspondence from them about their areas of concern. This year we missed our satisfaction target by 13.4 per cent because of the increase in new parliamentarians following the November 2018 election. We responded to all correspondence in a timely manner.=grame>
Our parliamentary reports

Performance measures

Target

Actual

Average time taken to produce performance audit reports

≤9 months

10.1 months

Average time taken to produce financial audit reports

≤5 months

4.8 months

Average cost of parliamentary reports

$509 000

$527 000

This year our parliamentary reports cost slightly more on average than our target. Our performance audits were delivered later than expected, but we have improved on this measure from last year. These cost and delays were due to resourcing issues and challenges in accessing and analysing data, as well as the impact of parliamentary tabling dates which were affected by the election, and the change in the Budget date. Our financial audit reports were delivered within our target time frame.
Our performance audit recommendations

Performance measures

Target

Actual

Percentage of accepted performance audit recommendations that have been implemented

80%

78.4%

We track whether agencies are implementing the recommendations that we made and they accepted. This year our results were within tolerance.
Our financial audits

Performance measures

Target

Actual

Audit opinions issued within deadlines

98%

98.3%

Management letters issued within deadlines

90%

93.7%

Average cost of audit opinions on performance statements

$5 100

$5 200

Average cost of audit opinions on financial statements

$51 000

$48 400

This year we met our time targets for issuing audit opinions and management letters.

We slightly exceeded our cost target for audit opinions issued on performance statements, but the result is in line with last year. We met our cost target for audit opinions on financial statements.
Our financial audit quality controls

Performance measures

Target

Actual

External/peer reviews finding no material departure from professional and regulatory standards

100%

90.0%

Proportion of agencies disclosing prior period material errors in financial statements

≤5%

0.9%

We have our work externally reviewed to check for material departures from professional and regulatory standards. This is meant to measure our compliance with various auditing and accounting standards. We did not meet our target this year, however, we exceeded industry benchmarks and last year's performance.
Our costs

Performance measures

Target

Actual

Total cost for parliamentary reports and services

$16 200 000

$16 000 000

Total cost for audit opinions on financial performance statements

$27 300 000

$27 100 000

We met our overall cost targets this year for our two output groups.
As well as measuring performance thought our Budget Paper No. 3 measures, we also participate in a benchmarking exercise run by the Australasian Council of Auditors-General (ACAG) every year.
| | | |
| --- | --- | --- |
| This year 46 per cent of all paid hours worked by all VAGO staff were charged to audit work. This is slightly lower than the average result for all states and territories of 48 per cent. but is better than our 2017–18 result of 44 per cent. | This year our audits cost 25 cents for every $1 000 in public sector transactions. This continues our downward trend from 30 cents in 2016–17, and 27 cents in 2017–18. The average cost for all states and territories was 35 cents. | This year our financial audit staff spent 67 per cent of their available time directly on financial audits and our performance audit staff spent 70 per cent of their available time directly on performance audits. These results are the same as in 2017–18. |