4 Investing in our people
 

Our objectives

Our directions

 

What success looks like

 

Enable high performance by our people through a supportive culture, professional development and collaboration

Be clear about what we stand for

Invest in excellence

Get the mix right

Employee engagement has increased

We develop, attract, and retain the talent we need
Our people are our most valuable and important assets. We have a highly qualified, professional workforce with a breadth of experience across a range of disciplines and fields relevant to public audit.
To help our workforce keep pace with the changes in our environment, we invest in the expertise our staff need. This year we have run training on appropriate behaviour as well as more technical training on Office 365, plain English and data analytics. We launched two key plans to shape our workplace into the future, a Culture Plan, and our first Diversity and Inclusion Plan. We also commenced re-evaluating how we outsource work, ensuring that we have the right mix of capability both internally and externally.
4.1 Our staff
Appendix A includes a profile of all VAGO employees. We have also updated our online workforce data dashboard, which is available at: www.audit.vic.gov.au/report/annual-report-2018-19.
The dashboard shows our employees by age, seniority, whether they are part‑time or full-time, on fixed-term or ongoing contracts, and by gender. VAGO employed 85 women in 2018–19, making up 52.8 per cent of our workforce. However, women made up 100 per cent of our part-time workers and 50 per cent of our fixed-term employees. Our gender pay gap is 1.9 per cent, or about $2 080.
Organisational structure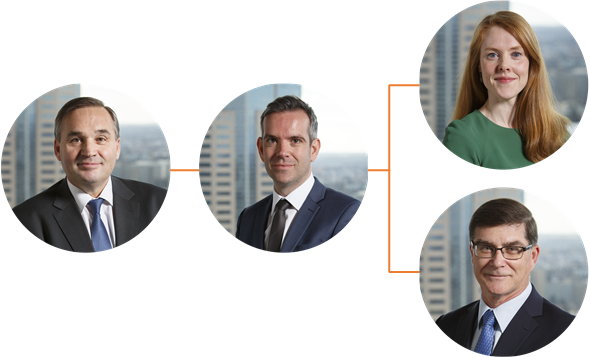 Andrew Greaves
Auditor-General

Andrew has over 30 years' experience in public sector external and internal audit at the federal, state and local government levels.  He was the Auditor-General of Queensland from 2011 to 21016.  From 2003 to 2011, Andrew held various roles at VAGO, including leading the performance audit and financial audit divisions.

Dave Barry
Deputy Auditor-General

Dave joined VAGO in 2017. He was previously Chief Executive Officer of the Alpine Shire Council in North East Victoria. He is passionate about delivering better and lower cost outcomes for our clients and the wider Victorian community.

Renee Cassidy
Assistant Auditor-General
Performance Audit

Renee joined VAGO in 2007 as a performance audit analyst. She has a background in health, and has undertaken audit work in a range of public sector areas. Renee has a particular interest in training and development and public sector evaluation.

Bill Gilhooly
Assistant Auditor-General
Financial Audit

Before joining VAGO in 2017, Bill was the Assistant Auditor-General in the Office of the Auditor-General for British Columbia until August 2016. For over 10 years he oversaw numerous audits of government financial and program performance, and led the office's IT audit practice.
 4.2 Human resources improvements
Improving our workplace culture
In May 2018, VAGO launched a new set of values that staff developed. Our values are respect, innovation, collaboration and accountability. The official launch included an eight-week campaign, with various values-focused activities occurring from June to August 2018.
We also received our 2018 People Matter Survey responses in June 2018 and analysed the results to understand how we could improve the everyday experience of our employees. Our employee engagement score was 66, and employee satisfaction was rated at 65. The areas that needed attention included appropriate behaviour and avenues of redress, wellbeing and workloads, and a lack of diversity focus.
To respond to staff feedback from the People Matter Survey and to keep the momentum from the launch of our new values, we developed our 2018–19 Culture Plan in consultation with the Staff Consultative Committee.
So far, we have:
implemented appropriate behaviour resources specific to VAGO and reviewed our policies
designed and delivered onsite appropriate behaviour training
continued promoting positive mental health and wellbeing activities
developed and launched VAGO's inaugural Diversity and Inclusion Plan
established a values subcommittee to continue activities to embed our values
reviewed our corporate processes and practices—including communications, recruitment, induction and training—to embed VAGO's values in our day-to-day work.
For the 2019 People Matter Survey, employee engagement was rated at 66, the same as 2018, but employee satisfaction fell to 60. We will continue implementing the Culture Plan initiatives into next year and will respond to the results of the 2019 survey.
Improving our diversity and inclusion
In March we launched our first Diversity and Inclusion Plan to help us become a more respectful, diverse and equitable organisation. We developed the plan in consultation with our employee representative groups.
We also engaged external stakeholders, including the Koorie Heritage Trust, the Aboriginal Employment Unit from the Victorian Public Sector Commission, the Victorian Public Sector (VPS) Pride Network, the National Institute for Challenging Homophobia Education and the VPS Enablers Network.
We will implement the action plan over a three-year period, so that the implemented changes are successfully and meaningfully embedded.
The plan has three phases: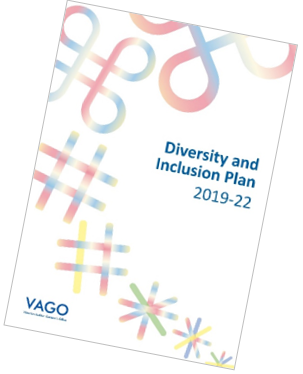 1. raising awareness
2. internal education and introduction of new practices
3. external engagement.
Five employee representative groups were set up to champion, consult and advise on our focus areas, including:
Aboriginal inclusion
cultural diversity
disability inclusion (focus on ability)
lesbian, gay, bisexual, transgender and intersex inclusion
women at work.
We launched the plan at our March Staff Forum where we welcomed Victorian Treaty Advancement Commissioner Jill Gallagher AO as our keynote speaker. We also hosted a panel discussion with Helen Kapalos from the Victorian Multicultural Commission, Thomas Fyfield from the VPS Pride Network and Adam Walton from the VPS Enablers Network.
It was encouraging to hear from our panellists, who are experts in diversity and inclusion, that VAGO is setting an example—especially in the public sector—in proactively raising awareness and putting attainable actions in place to build a more inclusive workplace.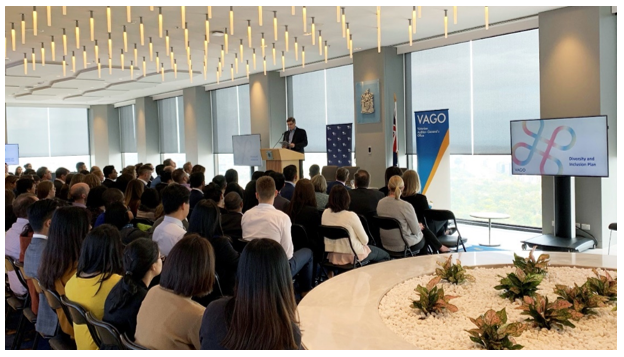 We have hosted other diversity and inclusion events during the year. On International Women's Day in March, we focused on women in the workplace when we hosted Katie Miller, Deputy Commissioner at the Independent Broad‑based Anti-corruption Commission. She spoke about her success and experience in government, specifically how she progressed her career as a woman in leadership, and the changing nature of workplace culture.
Improving our skills
This year our learning and development program focused on mandatory training across the organisation in appropriate behaviour and plain English. The appropriate behaviour training aimed to help address some of the issues raised in the previous People Matter Survey. Staff found the sessions engaging and thought-provoking, and they aligned with our focus on diversity and inclusion.
The plain English training aims to help staff communicate clearly and succinctly. Some of the information we need to convey in our correspondence and reports is very complex. Being able to express ourselves well is fundamental to getting our messages across to parliamentarians and the public. We hope to improve the written communication skills of all staff, to help ensure our reports are easily understood and have maximum impact.
Another initiative implemented across the organisation was training in Microsoft Office 365, which allows staff to work collaboratively or independently, in and out of the office. The tools that VAGO staff need to communicate and work are more accessible than ever before. The sessions provided an overview of the new features of Office 365 with a particular focus on cloud-based access to both files and software applications. We are using feedback gathered in the sessions to develop new guidance materials, support tools and further training in 2019–20.
We also ran training to help integrate data analytics across the organisation. Both performance and financial audit staff undertook statistics training towards the end of 2018. These sessions covered descriptive analytics, sampling, regression analysis and other advanced concepts. We engaged the University of Melbourne to help provide training for performance audit staff and Audit Smarter to help provide training for our financial auditors.
We have also had some excellent opportunities for individuals that have helped build their capacity, as well as benefiting VAGO more broadly. One such opportunity was a six-month exchange with the Local Government Inspectorate. The exchange increased our collaboration and built knowledge about the way different integrity offices operate. The auditor gained more skills and knowledge and VAGO now has a permanent ongoing contact at the Inspectorate. We are more frequently exchanging information and leveraging off each other's expertise.
As well as being a valuable way of investing in our people, this secondment was also a way to share knowledge and expand the capability of Victoria's integrity agencies.
Improving our use of audit service providers
To complete our annual financial audits of over 500 agencies, VAGO engages a group of qualified audit service provider (ASP) firms to assist us. We use ASPs to get the right mix of skills and experience across our financial audit program. About 65 per cent of our audits, mostly those that are smaller or low risk, are currently outsourced to these firms to conduct audits on behalf of the Auditor‑General.
This year we began reviewing our ASP arrangements and re-evaluating our approach. We will soon re‑establish the audit service provider panel, in part to enhance and reinforce our ASP requirements to comply with our enhanced data protection and privacy needs.
We also want to make better use of the capacity and capability of these firms, and work with those that can align themselves with our data analytics approach and our strategic direction.
At the same time, we are improving our audit tendering process to make it more contemporary and fit for purpose. We have redesigned it to be more flexible and streamlined. These changes will take effect during 2019–20.
We have also considered our oversight of ASPs. During the year we developed a more risk‑based framework for overseeing ASPs, which we will use during the 2019–20 audit cycle. As required by audit standards, this means we will have a more targeted, efficient approach to overseeing the work that ASPs do on behalf of the Auditor-General.