Enrolment Processes at Technical and Further Education Institutes
1.1 Vocational education and training
VET helps students develop technical skills and knowledge through practical, hands‑on learning. It provides them with pathways into a diverse range of industries, including nursing, hospitality, and traditional trades. According to the National Centre for Vocational Education Research, VET also plays a critical role in improving the opportunities of disadvantaged learners, as it helps individuals overcome key employment barriers, such as low literacy or numeracy levels.
Victorians may study VET in a broad range of contexts, including secondary schools, TAFEs, community organisations, industry skills centres, and universities. VET providers—also known as registered training organisations (RTO)—deliver various qualification types, including Certificates I to IV, diplomas, and advanced diplomas. In 2018, the Victorian VET sector had approximately 693 000 enrolments from both new and continuing students.
1.2 Delivery of VET in Victoria
Regulation of VET providers
The Australian Skills Quality Authority (ASQA) registers Victoria's TAFEs in accordance with the National Vocational Education and Training Regulator Act 2011. These TAFEs deliver nationally recognised VET courses and can apply for Commonwealth and state funding.
According to the National Vocational Education and Training Regulator Act 2011, ASQA can audit any RTO at any time. In practice, ASQA audits RTOs when they submit their initial application and again within the first 12 months of operation. ASQA also audits RTOs every five years as part of their ongoing registration cycle and in response to persistent or serious complaints.
ASQA audits Victorian TAFEs to ensure they follow nationally approved quality standards. This regulation mitigates the risk that VET providers will certify students for unacquired competencies.
Victorian TAFEs and dual-sector universities
The Education and Training Reform Act 2006 establishes Victorian TAFEs as public providers of VET. TAFEs help individuals enter the workforce, upskill, transition to new industries, increase their earning potential, or prepare for higher education.
Victoria's TAFE model differs significantly from that used by other jurisdictions. Over the past decade, most states and territories have streamlined, either wholly or in part, their TAFE systems through amalgamation or centralisation. For example, in 2017, the New South Wales Government dissolved its 10 previously autonomous TAFEs into five regions supported by a central structure. This reform aimed to reduce duplicative back‑of‑house tasks, including administration and marketing. In contrast, Victorian TAFEs operate as autonomous entities in a competitive, market‑driven environment. Each TAFE has its own board of directors, for which the Minister for Training and Skills appoints half the members.
Dual‑sector universities are also an important part of Victoria's VET system. Victoria is home to four of Australia's six dual-sector universities. These autonomous institutions have evolved from various former technical colleges to deliver a broad spectrum of courses, including significant amounts of both VET and higher education. In contrast, TAFEs deliver mostly VET.
For this audit, we use 'TAFE' to refer to both standalone TAFEs and dual-sector universities. Figure 1A shows their locations across Victoria.
Figure 1A
Victoria's TAFEs and dual-sector universities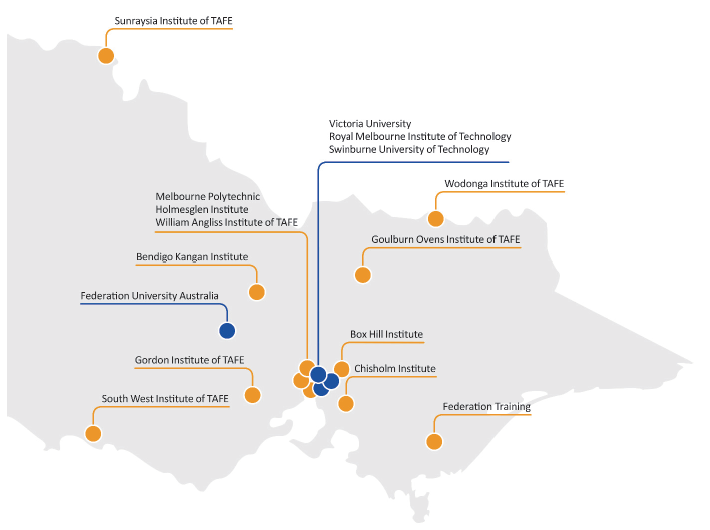 Note: The orange dots represent TAFEs, while the blue dots represent dual-sector universities.
Source: VAGO.
1.3 Skills First
The VTG uncapped VET enrolments and introduced full contestability for places, and therefore funding, between public and private providers. This reform aimed to create a student-driven, competitive culture focused on high‑quality services.
Previously, the Victorian Government allocated a set number of subsidised VET places to certain providers.
Launched on 1 January 2017, Skills First aims to strengthen the sustainability of TAFEs while protecting the rights and interests of students. It forms part of the Victorian Government's commitment to enhancing educational equity.
Through Skills First, the government contracts TAFEs and other RTOs to deliver subsidised courses to eligible individuals. Skills First builds on the government's previous entitlement scheme—the Victorian Training Guarantee (VTG)—and aims to:
maintain a contestable funding system in which TAFEs and other RTOs deliver high-quality training by following specific contractual standards
prioritise courses that target industry needs while maximising students' employment prospects
financially support TAFEs to deliver vital community services that support students.
In 2019, the Skills First program includes 929 subsidised courses.
VET funding contract
The department engages RTOs to deliver subsidised training programs such as Skills First through the contract. The contract includes standard Skills First provisions and is valid for one to two years.
The contract outlines the conditions that RTOs must fulfil to receive Skills First funding. It states that these conditions impose 'significantly more onerous obligations on the training provider than apply by virtue of its status as a registered training organisation', and cover a broad range of topics, including:
the appropriateness of marketing and advertising
the provision of enrolment-related information to prospective students, such as course advice
the procedure for testing an individual's eligibility for subsidised training, and their entitlement to concession prices or fee waivers
the conduct of key enrolment-related processes, such as the pre‑training review, which helps TAFEs determine whether a prospective student's chosen course meets their needs and aspirations
the development of a student's training plan, which provides clear information about their course and its requirements
the delivery of training and assessment activities
levying fees.
The two-course rule prevents individuals from beginning more than two subsidised courses in a year, enrolling in more than two subsidised courses concurrently, and puts lifetime limits on courses at the same level.
We provide further information about these points in Appendix B.
According to the contract, individuals are eligible for subsidised training if they are under 20 years of age, or over 20 years of age and 'upskilling,' provided that:
their preferred course of study is on the Skills First list and they fulfil its entry requirements
they are either an Australian citizen, holder of a permanent Australian visa, or a New Zealand citizen who meets the two-course rule.
The contract also includes funding for high-needs learners who may otherwise be ineligible for subsidised training, through the:
Latrobe Valley Initiative
Back to Work Scheme
Asylum Seeker VET Program.
1.4 Policy and regulatory changes
Over the past decade, changes to the VET sector's policy and regulatory environment have influenced TAFEs' enrolment levels, which declined from 2012 to 2018.
Figure 1B outlines the major policy and regulatory changes, and Figure 1C shows the number of new government-subsidised enrolments at TAFEs between 2010 and 2018.
Figure 1B
Changes to the TAFE policy and regulatory environment
Year

Policy and regulatory changes

2009

The Australian Government introduced the VET FEE-HELP student loans program to remove the up-front costs to education for eligible individuals.

The Victorian Government introduced the VTG for individuals enrolling in diplomas and advanced diplomas, with fully contestable funding between public and private providers.

2011

The Victorian Government expanded the VTG and contestable market to cover all VET qualification levels. This led to a significant increase in the number of private VET providers.

2012

All Australian governments committed to the National Partnership Agreement on Skills Reform. This included the $1.7 billion National Training Entitlement, almost 75 per cent of which went to students enrolled with private providers.

The Australian Government fully deregulated higher education places for domestic students from 2012 to 2017, which led to an increase in university enrolments.

The Victorian Government removed special, community funding for TAFEs and tightened course subsidy levels, eligibility requirements, and oversight arrangements. This included the introduction of the two‑course rule.

2014

The Victorian Government further tightened the two-course rule by restricting the number of subsidised courses that individuals can begin at the same level within their lifetime.

2015

The Victorian Government:

carried out a 'quality blitz,' which resulted in the closure of several low-quality and fraudulent private RTOs
responded to the VET Funding Review—an inquiry into the sector's quality and sustainability—by committing to a new funding model. This included tightening subsidy rates, reducing the number of courses, and capping enrolments for courses with low economic need.

2017

The Australian Government replaced the VET FEE-HELP program with the VET Student Loans scheme. This change set a higher bar for providers wishing to participate in the scheme.

The Victorian Government replaced the VTG with the Skills First initiative and associated contract.

The department sought to strengthen TAFE governance in response to dishonest conduct identified by the Independent Broad-based Anti-corruption Commission's Operation Lansdowne report, which found that some TAFEs misappropriated public funds through insufficient enrolment controls.

2018

The Victorian Government committed $172 million to cover individuals' tuition fees for 50 courses under the Free TAFE.

The department introduced minimum service standards for institutions delivering Free TAFE courses.
Source: VAGO.
Figure 1C
New government-subsidised enrolments at Victorian TAFEs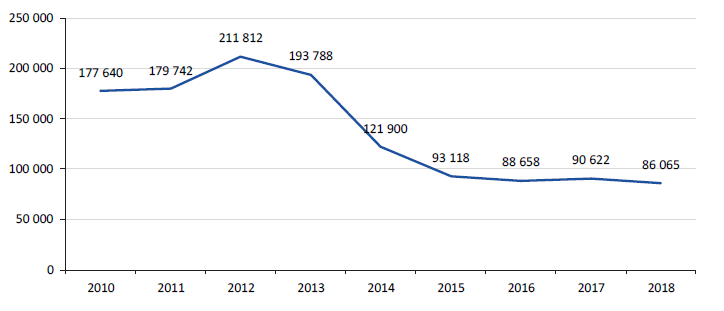 Source: VAGO, based on TAFE enrolment data from the department.
1.5 Enrolment processes
In this audit, we examined how prospective students enrol in Skills First programs. Figure 1D shows the standard process for enrolling in these courses. This process has four broad phases, comprising:
enquiry―the prospective student contacts the TAFE to ask about training opportunities (as shown by the green boxes in Figure 1D)
application―the prospective student formally registers their interest in completing a particular course (as shown by the purple boxes in Figure 1D)
assessment—the TAFE assesses the prospective student's eligibility and suitability for their preferred course and may make them an offer (as shown by the orange boxes in Figure 1D)
enrolment―both the prospective student and the TAFE complete the necessary steps to finalise the student's enrolment into their desired course (as shown by the blue boxes in Figure 1D).
In this report, we use the term 'enrolment process' to cover these four phases.
Figure 1D
The standard process for enrolling in a Skills First course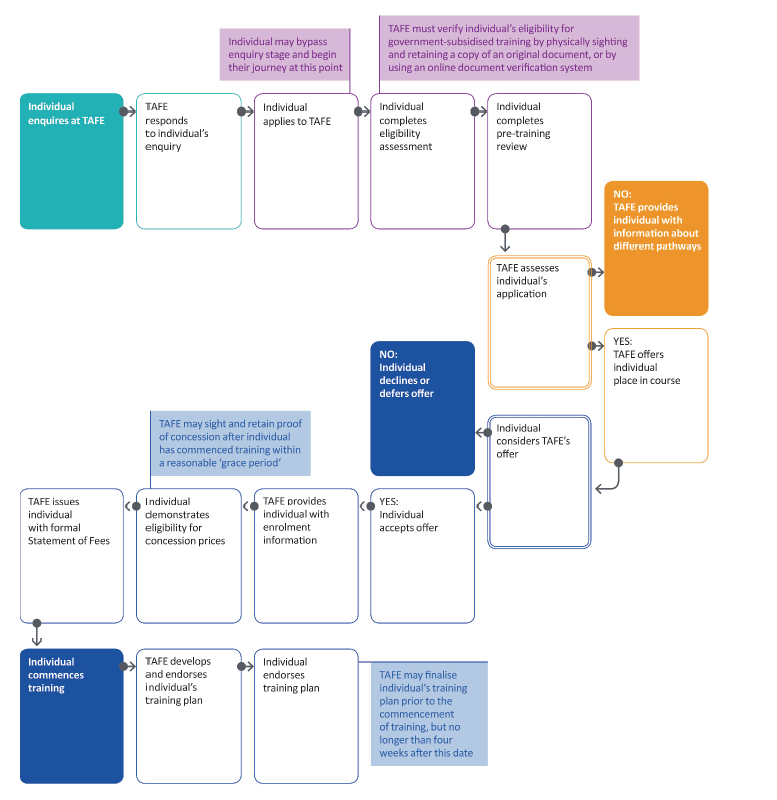 Note: Some study areas, such as nursing, design, and music, have additional entry requirements and more complex pathways.
Note: The coloured shapes designate enrolment start and end points for the prospective student; the clear shapes designate key touchpoints; and the double-lined shapes designate a decision point.
Source: VAGO.
1.6 Why this audit is important
The VET sector receives significant funding from the Victorian Government each year. In 2018–19, the government invested $644 million in high-quality training through the TAFE and training sector, including $172 million over four years to the Free TAFE initiative. By minimising or removing the cost of education for the student, Skills First aims to make VET more accessible to Victorians without post‑school qualifications, including those who face additional barriers, such as learning difficulties.
It is a government priority to increase VET participation among disadvantaged learners, or individuals who want to change careers. It is important, therefore, for TAFEs to have efficient and effective enrolment processes.
The findings of the Independent Broad-based Anti-corruption Commission's 2017 Operation Lansdowne report also highlight the significant role of the department's contract with TAFEs in protecting the rights and interests of students, and the importance of ensuring VET providers use public funds for their intended purpose.
1.7 What this audit examined and how
We examined the efficiency of enrolment processes for individuals seeking to undertake Skills First training at five TAFEs:
Box Hill
Melbourne Polytechnic
SuniTAFE
Swinburne
William Angliss.
We assessed whether TAFEs' enrolment processes are:
compliant with the department's contract
free from unnecessary and burdensome actions
completed in a timely manner
regularly reviewed to identify potential improvements.
We also considered the department's oversight of and support provided to TAFEs to meet their contractual requirements.
We examined the standard pathway of a domestic applicant seeking to enrol in a Skills First course. We did not investigate the enrolment process for:
international students
full-fee-paying students
apprentices or trainees
cohorts who require special assistance, such as non‑English‑speaking migrants.
Methods
Our audit methods included:
mapping each TAFE's enrolment process, based on walkthroughs with staff and supporting documentation
process mining TAFEs' information management systems to understand applicants' pathways from enquiry to finalising enrolment
assessing the department's oversight and support role based on documentary evidence and agency discussions
surveying prospective students about their experiences with TAFEs' enrolment processes.
We distributed our survey to 24 154 people who initiated the enrolment process at any of the five audited TAFEs between October 2018 and February 2019. We report the results of this survey in Appendix D.
We conducted our audit in accordance with the Audit Act 1994 and ASAE 3500 Performance Engagements. We complied with the independence and other relevant ethical requirements related to assurance engagements. The cost of this audit was $740 000.
1.8 Report structure
The remainder of this report is structured as follows:
Part 2 examines the efficiency of TAFEs' enrolment processes.
Part 3 examines monitoring of TAFEs' enrolment processes.
Part 4 examines how TAFEs' enrolment processes meet the contract's requirements.