Sexual Harassment in the Victorian Public Service
Sexual harassment in the workplace is unlawful and can have significant negative effects on individuals and their employers. In some cases, sexual harassment is also a criminal offence.
A national survey by the AHRC in 2018 showed that sexual harassment is common. One in three people reported being sexually harassed at work in the past five years.
In the Victorian public service, this rate appears to be lower. In 2019, 7 per cent of departmental respondents to the VPSC's PMS said that they had experienced sexual harassment at work in the previous 12 months.
Under the Equal Opportunity Act 2010, organisations including Victorian government departments must take reasonable and proportionate measures to eliminate sexual harassment in their workplaces. This audit examines the effectiveness of those steps.
1.1 Why this audit is important
There is growing awareness of the impact that sexual harassment in the workplace can have on individuals, employers and the wider organisation.
Impact on individuals
Academic research suggests that sexual harassment at work can cause significant physical, mental and financial harm to individuals. The AHRC's 2018 Everyone's business: Fourth national survey on sexual harassment in Australian workplaces reports that most sexual harassment victims experience some short or long‑term consequences. It has been linked to depression, anxiety and other health issues, absenteeism and reduced job satisfaction.
Impact on employers
Research also shows that sexual harassment is costly to employers. It can cause workplace disruption, impact employee productivity, damage culture and increase employee absenteeism and turnover.
Unless the relevant organisation has taken reasonable precautions to prevent sexual harassment, a tribunal may find it vicariously liable for the sexual harassment perpetrated by its employees. Even without the risk of litigation, it is costly to an organisation to investigate and act on complaints.
Why this audit is important now
Since 2016, PMS data has shown that sexual harassment is an issue for Victorian government service employees. At the same time, the AHRC's National Inquiry into Sexual Harassment, which began in 2018, and international movements such as the #MeToo campaign have renewed attention on the issue of sexual harassment.
In 2018, the Victorian government signalled its commitment to preventing and responding to sexual harassment. The Victorian Secretaries Board (VSB) issued a statement that 'any form of sexual harassment in any public sector workplace is unacceptable' and formed a working group, chaired by the VPSC. In November 2018, the VPSC introduced the model policy and Guide for the Prevention of Sexual Harassment in the Workplace (the guide).
It is timely for us to assess whether the departments are providing workplaces that are free from sexual harassment.
1.2 What is sexual harassment?
The Equal Opportunity Act 2010 defines sexual harassment in the workplace as any unwelcome behaviour of a sexual nature that makes a person feel offended, humiliated, and/or intimidated in circumstances where a reasonable person would expect that reaction.
Anyone can perpetrate or experience sexual harassment. The model policy and guide outline various forms of sexual harassment, including:
comments or questions of a sexual nature about a person's private life or their appearance
sexually suggestive comments or jokes
displaying offensive screensavers, photos, calendars, or objects of a sexual nature
sexually explicit emails, text messages or posts on social networking sites
repeated requests to go out on dates
requests for sex or sexual favours
sexually suggestive behaviour, such as leering, staring or offensive gestures
unwelcome physical contact of a sexual nature including brushing up against someone, touching, fondling, or hugging
actions or comments of a sexual nature in a person's presence (even if not directed at that person)
sexual assault, indecent exposure, physical assault, and stalking (which are also criminal offences).
Sexual harassment can occur even when the perpetrator does not intend it. It does not need to be a repeated behaviour.
Risk factors
Sexual harassment can occur in any workplace and to any person. Research shows that certain factors can increase the risk of sexual harassment, including:
poor organisational culture
unequal power between men and women
rigid gender stereotypes
predominately male workforces
hierarchical power structures.
1.3 Prevalence and complaints
Departments can use PMS data to look at culture and the prevalence of sexual harassment within the organisation. However, as an anonymous survey, the PMS does not give detail on individual complaints. Departments need to encourage complaints so that they can act on inappropriate behaviour.
VPSC's model policy and the AHRC's Code of Practice for Employers 2008 recommend that employers have formal and informal channels for sexual harassment complaints. Figure 1A shows possible complaint channels, responses and outcomes.
Figure 1A
Possible complaints channels, responses and outcomes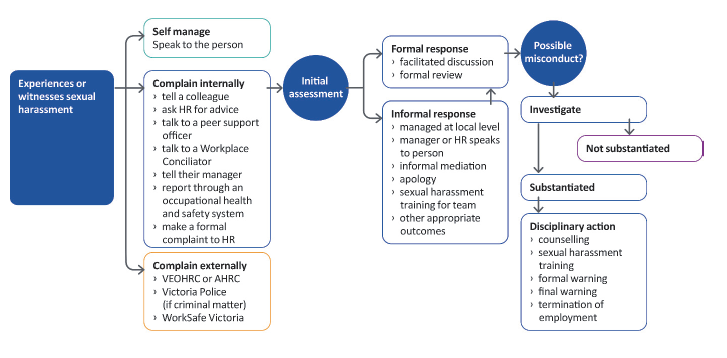 Source: VAGO.
The department will determine how to handle the complaint, and should take into account the:
nature of the complaint
wishes of the complainant
outcome the complainant is seeking
initial channel for submitting the complaint
need to protect employees.
1.4 Responding
When a department becomes aware of sexual harassment, it should act quickly and effectively and ensure it protects staff from victimisation. If a complaint is made, where appropriate, departments should encourage the relevant parties to resolve the complaint through informal procedures rather than through a formal investigation.
There may be instances where a formal complaint or response is necessary. If a disciplinary outcome is required, the department may initiate a formal misconduct process under Clause 21 of the Victorian Public Service Enterprise Agreement 2016 (the enterprise agreement).
These processes should be well documented, timely, and uphold procedural fairness. They should also include supports for all parties, as the response to a sexual harassment complaint can be distressing for all involved.
1.5 Prevention
Departments must take reasonable steps to eliminate sexual harassment in their workplaces.
Figure 1B shows the key steps for preventing sexual harassment.
Figure 1B
Sexual harassment prevention

Source: VAGO.
1.6 Legislation, policy and guidance
Sexual harassment in the workplace is unlawful and prohibited under Victoria's Equal Opportunity Act 2010and the Australian Sex Discrimination Act 1984. Departments have a positive obligation to eliminate sexual harassment in their workplace as far as possible. Departments, as employers, must also provide a safe workplace under Victoria's Occupational Health and Safety Act 2004.
The legislative framework does not prescribe the structures organisations need to have to prevent and respond to sexual harassment. This means organisations have the flexibility to design a system that suits their size, risk profile and resources.
Appendix B provides an overview of key legislative and guidance material relevant to public sector bodies when developing their sexual harassment policies and procedures.
1.7 Who we audited and why
We included 11 agencies in this audit:
All eight Victorian government departments—DELWP, DET, DHHS, DJCS, DJPR, DoT, DPC and DTF
VEOHRC
VPSC
WorkSafe Victoria.
Victorian government departments
The eight Victorian government departments employ more than 36 000 staff. Departments are often seen as the leaders in the public service and how they act and respond to sexual harassment sets an important example for the rest of the public sector.
On 1 January 2019, the Victorian government split the former Department of Economic Development, Jobs, Transport and Resources (DEDJTR) into two new departments, DoT and DJPR. We assessed both the former DEDJTR, as well as DoT and DJPR. DoT supplied data that predates the transition of the former VicRoads and the former Public Transport Victoria into DoT, which occurred on 1 July 2019.
VEOHRC
VEOHRC has responsibilities under the Equal Opportunity Act 2010, the Charter of Human Rights and Responsibilities Act 2006 and the Racial and Religious Tolerance Act 2001. VEOHRC:
provides education resources, training packages, practice guidance and consultancy services regarding sexual harassment
can conduct investigations into potential systemic and serious matters of sexual harassment, discrimination or victimisation
can review an organisation's compliance with human rights on request and enter into action plans with organisations to improve compliance with sexual harassment protections
delivers a dispute resolution service for complaints about discrimination, sexual harassment, victimisation and racial or religious vilification.
VEOHRC can accept complaints from any person in Victoria, including government employees concerned about discrimination or harassment in their workplace.
VPSC
The role of the VPSC is to strengthen the effectiveness, efficiency and capability of the public sector. It issues codes of conduct and standards, monitors and reports on public sector compliance with these standards, and runs the annual PMS.
The VPSC:
Deputy Commissioner chairs a VSB working group established to lead work on preventing and responding to sexual harassment in the workplace since March 2018
released the model policy and guide in November 2018
introduced the Respectful Workplaces Framework and the Prevention of Sexual Harassment – Model Action Plan in July 2019.
Together, these actions seek to support the public sector in preventing sexual harassment though improved policies and processes and by changing cultural norms.
WorkSafe Victoria
WorkSafe Victoria enforces occupational health and safety and accident compensation laws in Victoria. It aims to prevent workplace injury, disease and death. Staff who are injured at work, including those who experience mental health issues because of harassment, can make a workers' compensation claim. WorkSafe Victoria (or its agents) receives, assesses and determines claims for compensation. It also educates employers to achieve healthy and safe working environments.
1.8 What this audit examined and how
This audit examined whether the Victorian public service provides workplaces that are free from sexual harassment.
We assessed whether departments:
have effective measures to prevent and report on sexual harassment
respond to complaints of sexual harassment in a fair and effective manner.
Methods used
As part of the audit we:
analysed raw data from the PMS undertaken from 2016 to 2019 for the audited departments and the former DEDJTR
ran an online public submissions process. We received 27 submissions—two from organisations and 25 from departmental staff—on their experiences and views of sexual harassment in the Victorian public service
examined departmental documentation, including policies, training, action plans and prevention strategies
reviewed a selection of sexual harassment complaint files in each department.
We also conducted our own survey for departmental staff on sexual harassment. Our survey did not include staff working in prisons or statutory authorities.
Our survey asked about:
individual experiences of sexual harassment and impact
why respondents did or did not complain
the adequacy of policies
the effectiveness of training
views on departmental communication and prevention.
The PMS asks staff about their experiences of sexual harassment and why they did not complain or whether they were satisfied with how the department handled their complaint. Our survey asked additional questions to gain further insight on sexual harassment.
Our survey was open for two weeks and received 4 811 responses. We received too few responses from DJPR and DOT to use in our analysis. We removed these responses from our analysis, which brought our response total to 4 729. The response rates for each remaining department ranged between 10 and 26 per cent.
We refer to both the PMS and our own survey throughout the report. While survey data is the best data source we have for understanding prevalence of sexual harassment, it is limited by response rates. It may not capture all staff who experience sexual harassment.
We conducted this audit in accordance with the Audit Act 1994 and ASAE 3500 Performance Engagements. We complied with the independence and other relevant ethical requirements related to assurance engagements. The cost of this audit was $520 000.
Any persons named in this report are not the subject of adverse comment or opinion.
1.9 Report structure
The remainder of this report is structured as follows:
Part 2 examines the prevalence of sexual harassment and whether department workplaces are free from harm.
Part 3 examines how departments address complaints of sexual harassment.
Part 4 examines what departments have done to prevent sexual harassment in their workplaces.