Contract Management Capability in DHHS: Service Agreements
DHHS is responsible for policies, programs and services to support and enhance the health and wellbeing of all Victorians.
DHHS's service responsibilities are vast and include:
health services—acute health care, aged and home care, primary and dental health, mental health and drug services
human services—child protection and family services, housing assistance, community participation and disability services.
DHHS plays multiple roles in delivering health and human services as shown in Figure 1A.
Figure 1A
DHHS roles in delivering health and human services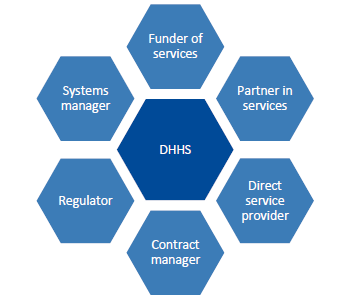 Source: VAGO.
Collaboration, including through partnership with people and organisations, is one of DHHS's core values. DHHS is responsible for ensuring service systems are sustainable and capable of delivering continuity of care. This includes supporting funded organisations to provide health and human services and ensuring its oversight balances appropriate accountability and administrative obligations.
DHHS partners with approximately 1 900 funded organisations to deliver person-centred services and care.
1.1 Service agreements
A service agreement is a contract between a department and an organisation to deliver services on behalf of government.
DHHS spends approximately $2.8 billion annually on funded organisations to deliver services to Victorians through service agreements. The service agreement defines DHHS's responsibilities and obligations in funding organisations, and organisations' responsibilities and obligations in delivering services.
State of Priorities—annual accountability agreements between Victorian public healthcare services and the Minister for Health.
The Victorian Common Funding Agreement is mandated for all Victorian Government departments that fund not-for-profit community organisations to deliver services and projects. Service agreements typically follow a four‑year cycle, except for disability services, where contracts are limited to three years under the Victorian Disability Act 2006. DHHS service agreements are based on the Victorian Common Funding Agreement and have additional clauses and schedules due to the nature of services funded. Public healthcare services, such as public hospitals, dental health services and Ambulance Victoria, are managed through a Statement of Priorities (SOP) instead of a service agreement.
DHHS uses a standard service agreement template for all organisations that it funds. Figure 1B details the structure of the standard agreement.
Figure 1B
DHHS standard service agreement structure
Service agreement section

Description

Signatories

Contains the signature clauses for authorised persons to sign for the department and the organisation.

Background

Contains a brief background to the service agreement and describes reasons for the organisation and the department entering into the service agreement.

Details

Contains core service agreement details—the organisation's legal name, the department's name, the agreement's start and end dates and the primary contact details of each party.

Terms and conditions

Contains the standard terms and conditions of the service agreement.

Schedule 1

Lists the applicable departmental policies related to the delivery of services by the organisation.

Schedule 2

Includes:

a funding summary and payment schedule
data collection requirements (for performance reporting and other data reporting)
services to be provided by the organisation
funding to be paid by the department for the services
service performance measures and targets
delivery catchments information if applicable
any additional requirements related to the specific service plan or activity.

Schedule 3 (optional)

Optional schedule that enables the department and organisation to record any special conditions and/or actions that sit outside the service plan.
Source: VAGO.
DHHS annually updates its Policy and Funding Guidelines, which contain information for managing and administering service agreements. Descriptions of funded activities are linked to the service agreement and provide further detail on an organisation's service delivery, regulatory and compliance obligations. The guidelines also include service standards and guidelines (SSG) and applicable policies.
As with all procurement, DHHS is required to manage these contracts actively to ensure providers deliver the purchased services to the appropriate standard, and that they represent value for money for the investment of government funds. Managing service agreements requires different and more complex capabilities to those necessary for managing contracts for commercial goods and services. In particular, managing service agreements requires staff, supported by systems and processes, to carefully balance objectives of delivering quality services, fulfilling a duty of care to clients, and maintaining a sustainable service system across Victoria.
Based on currently available data for the 2015–19 agreement period in SAMS2, the following are some key statistics for service agreements as of April 2018:
A short-form agreement is commonly used for organisations that receive funding that is low in value and one-off in nature.
A total of 1 927 organisations have a total of 2 680 distinct agreements with DHHS. This includes 563 organisations that have a short-form agreement.
The total value of these agreements over four years is $11.3 billion with an average of $5.84 million per funded organisation.
The funding provided to organisations varies significantly from over $350million to as low as $983. The top 10 funded organisations account for $2.6 billion of funding, whereas the bottom 100 organisations make up only $556.4 million.
Figure 1C shows the number of organisations funded by quartile.
Figure 1C
Funding distribution for current service agreement period (2015–19)
| Per cent of funding | Number of organisations | Median value for each cohort ($) | Average value for each cohort ($) |
| --- | --- | --- | --- |
| First 25 | 11 | 244 594 467 | 249 936 650 |
| 25–50 | 40 | 56 018 739 | 71 695 808 |
| 50–75 | 114 | 23 397 983 | 24 728 434 |
| 75–100 | 1 762 | 232 415 | 1 601 362 |
| Total/All | 1 927 | 290 519 | 5 842 126 |
Note: Amounts include both standard and short-form service agreements.
Source: VAGO based on DHHS data.
1.2 Service agreement framework
The framework that supports DHHS and funded organisations to implement and manage service agreements comprises the following components:
Policy and Funding Guidelines—information for managing and administering service agreements, including descriptions of funded activities
Service agreement information kit—information for funded organisations about service agreement requirements
Service Agreement business rules and guidelines—information to assist DHHS staff in managing and meeting DHHS's contractual obligations under the service agreement
FOPMF— a toolkit comprising checklists and a RAT to assist DHHS to monitor funded organisations' performance
information systems—to assist with managing service agreements and collecting client and program data
Funded Agency Channel (FAC)—an online portal through which funded organisations can access information about their service agreements and related resources.
1.3 Roles and responsibilities
The responsibility for executing, managing and monitoring service agreements rests with various parts of DHHS in central and regional offices. Figure 1D describes the distribution of responsibilities.
Figure 1D
Service agreement roles and responsibilities across DHHS
DHHS level

Team responsibilities

Central office

Operational Performance and Quality Branch (from February 2018):

develop and maintain service agreement policies, frameworks, systems and other resources
renegotiate the standard service agreement template
provide system oversight and lead the development of a new operating model
manage FOPMF including online functions
develop learning and development tools and provide training to staff
advise and support staff and funded organisations on systems and policy issues
advise and support divisions and areas undertaking service reviews
provide centralised oversight and analysis of funded organisation performance
undertake complex or high-risk performance reviews and other risk assessment
process variations to funding commitments where DHHS is implementing complex or systemic change.

Program areas:

provide program requirements and guidelines, measures and applicable departmental policies
manage service agreements for funded activities (only performed by some central program areas).

Divisions (x 4)

Service agreement contact officers/Deputy Secretary/financial delegates:

approve funding commitments under service agreements (subject to delegation)
analyse funded organisations' financial reporting and advise monitoring staff on their financial health (performed by divisional finance teams, and by Central Office Finance Branch for centrally managed agreements)
develop performance reports and analytics for areas and divisions (Performance and Analysis units).

Areas (x 17)

Agency Performance and Systems Support Units (from June 2018):

service agreement advisers perform day-to-day management of service agreements with funded organisations, including monitoring performance and adherence to DHHS policy, program guidelines and requirements.

Before June 2018, the service agreement adviser role was performed by:

LEOs for the human services portfolio
program advisers for funded activities for the health services portfolio.
Source: VAGO.
1.4 Recent changes
DHHS instigates a service review where it identifies a high level of risk or issues of concern with a funded organisation. It can be collaborative or investigative in nature.
In October 2017, DHHS announced plans to restructure aspects of its organisation, which affect responsibilities for managing service agreements.
Central office changes
The new structure within DHHS's central office took effect in February 2018. It brings together staff responsible for establishing service agreements and developing policies and frameworks for performance monitoring and staff responsible for broader, system-wide performance and quality. These functions were previously located in different parts of DHHS. The purpose of this restructure is to establish a single point of responsibility for the oversight of service agreement policy, and for inquiry and action to address underperformance of funded organisations. The change also included creation of a new leadership position overseeing the performance of service agreements and new positions created to perform data analysis and support and strengthen compliance.
This new organisational design aims to improve alignment between service agreement creation, execution and analysis and to ensure funded organisations meet the conditions of both operational and financial performance.
Area-level changes
In May 2018, DHHS announced changes at the area level that included the creation of an Agency Performance and System Support Unit within each of DHHS's 17 Areas. Each unit consolidates the service agreement management functions for health and human services, with the roles of LEO and program adviser combining into one service agreement adviser role.
These changes aim to:
improve the capacity and capability of staff to manage service agreement performance in a risk-based manner
focus effort on improving funded organisations' performance
provide an in-depth understanding of locally provided funded services
balance service agreement management and capability activities within areas, based on demand.
The changes took effect in June 2018, with ongoing implementation managed through DHHS's Agency Performance and System Support Operating Model Working Group.
1.5 Managing and monitoring service agreements
Prior to the area-level changes, LEOs and program advisers in the 17 area offices across Victoria played the lead role in monitoring and managing service agreements with funded organisations. This included implementing FOPMF, which DHHS developed in 2015 to provide a consistent framework for performance monitoring. FOPMF consists of three key elements:
Service agreement monitoring—ongoing collection of information relevant to core performance metrics and broader considerations like organisational governance, financial viability, compliance with relevant standards, quality and safety considerations. It involves collecting and reviewing data through regular engagement with funded organisations and drawing on other relevant DHHS databases.
Risk assessment of identified performance issues—applying a defined methodology to assess risks associated with performance issues.
Responses to performance issues—responding appropriately to performance issues, ranging from agreeing to remedial actions with the funded organisation, to undertaking a wider service review, through to de‑funding organisations.
SAMS2 is the key information system used in managing service agreements. It records DHHS's contractual arrangements with the organisations it funds, agency performance data and DHHS monitoring data. DHHS also uses this system to create service agreements.
There are multiple additional information systems relevant to service agreements, including the Client Incident Management System (CIMS) and a range of program-specific data collections to which funded organisations must submit information.
1.6 Why this audit is important
With approximately $2.8 billion spent on service agreements each year across a wide range of services with varying complexity, DHHS needs assurance that its investment is producing high-quality services.
Service agreements represent an intersection between multiple priorities including:
value-for-money procurement
responsive services that meet citizens' needs
management of risks associated with outsourced service provision.
Effectively managing service agreements requires carefully balancing these priorities.
Previous reviews of government departments' partnership with community sector organisations have highlighted unique challenges. These reviews include:
VAGO's 2010 performance audit Partnering with the Community Sector in Human Services and Health, which highlighted the need for the former departments to 'improve consistency in managing and monitoring service agreements to further reduce administrative and related cost burdens placed on funded organisations without compromising accountability'.
The Royal Commission into Institutional Responses to Child Sexual Abuse, which produced a series of case studies resulting from public hearings in 2013–17. Findings highlighted the need for effective oversight of funded services in the areas of governance, service delivery and financial management.
The Productivity Commission highlighted in 2016 that governments are imposing management requirements on outsourced services that are out of proportion with the level of risk, can lead to high compliance costs, and can hinder responsiveness and innovation.
More recently, in August 2017 the Coroner's Court of Victoria released the findings of its inquest into the death of a person in the care of DHHS who resided at a residential care unit. The inquest highlighted a number of shortcomings with:
DHHS's monitoring of the funded organisation
information sharing between DHHS and the funded organisation
the capability of staff employed by the funded organisation.
In September 2017 the Victorian Ombudsman released the report of an investigation into the management of a disability group home and the protection of residents within it. The facility was managed by a funded organisation providing disability services through a service agreement between the organisation and DHHS. The investigation found numerous deficiencies, including that the funded organisation did not meet standards prescribed in the service agreement and that DHHS did not effectively monitor the agreement or intervene to remedy the shortcomings in its execution.
More broadly, numerous other reviews—completed at either a whole‑of‑government, departmental or service agreement level since 2011—have also identified various challenges relevant to DHHS's service agreement management. These reviews highlighted the need for:
a more integrated and consistent service delivery model that is both client- and outcome-focused
a more risk-based approach to overseeing performance of funded organisations that removes duplication and gaps in performance monitoring
improved information systems that reduce complexity
clearer staff roles and responsibilities.
These wide-ranging reviews highlight some of the challenges that service agreement management presents for departments and funded organisations. Given that service agreements are at the heart of DHHS's operating model, examining DHHS's capability to manage them effectively—including its systems, processes and human resource capability—provides important insight.
1.7 What this audit examined and how
The objective of the audit was to determine whether DHHS has sufficient capability in managing service agreements to ensure funded organisations deliver agreed health and wellbeing supports and outcomes to clients.
To address this objective, we assessed whether DHHS service agreements are fit-for-purpose, focusing on:
service agreement performance standards, review mechanisms and deliverables
whether service agreement requirements imposed on funded organisations are proportionate to risk.
We also assessed whether DHHS is implementing an effective system for managing service agreements, focusing on:
the skills and capabilities within DHHS that relate to managing service agreements
the design and implementation of DHHS's service agreement performance monitoring framework.
The audit examined whole-of-department systems and processes and included fieldwork in two DHHS divisions—East and West.
The audit also included:
consultation with a selection of funded organisations within these divisions
surveys of DHHS service agreement staff and funded organisations.
We distributed our DHHS survey to 513 staff who either currently or have previously managed service agreements. This included staff who manage service agreements as a core part of their role, as well as staff with a lesser role in managing service agreements. The results of this survey are in Appendix D.
We distributed our funded organisation survey to 1 021 funded organisations. The results of this survey are in Appendix E.
Across the two surveys, we sought views on:
service agreement administrative and compliance requirements
staff skills, capability and capacity
performance monitoring and reporting arrangements.
Figure 1E shows the response rate for each survey.
Figure 1E
Response rate for VAGO surveys of DHHS service agreement staff and funded organisations
| Survey | Invitations sent | Responses received | Response rate (%) |
| --- | --- | --- | --- |
| DHHS staff | 513 | 200 | 39 |
| Funded organisations | 1 021 | 355 | 35 |
Source: VAGO.
The audit also included closer examination of 12 service agreements, covering:
both health and human services
DHHS's East and West Divisions
a mix of funding levels.
The funded organisations included in this selection are detailed in Figure 1F.
Figure 1F
Organisations selected for detailed examination of service agreements
 

Metro

 

Rural

Service

Outer Eastern Melbourne (East)

Western Melbourne (West)

 

Ovens–Murray (East)

Western District (West)

Human Services

Australian Childhood Foundation

MacKillop Family Services

 

Junction Support Services

Winda-Mara Aboriginal Corporation

Anglicare Victoria

Western Region Centre Against Sexual Assault Inc.

 

Rural Housing Network Limited

Brophy Family & Youth Services Inc.

Health Services

Ranges Community Health

Cohealth Ltd

 

Westmont Aged Care Services Limited

Western Region Alcohol and Drug Centre Inc.
Source: VAGO.
The audit focused on the current service agreement cycle that commenced on 1 July 2015.
We conducted our audit in accordance with section 15 of the Audit Act 1994 and ASAE 3500 Performance Engagements. We complied with the independence and other relevant ethical requirements related to assurance engagements. The cost of this audit was $625 000.
1.8 Report structure
The remainder of this report is structured as follows:
Part 2 examines how DHHS sets service agreement requirements.
Part 3 examines staff skills and capabilities to manage service agreements.
Part 4 examines how DHHS monitors service agreement performance.